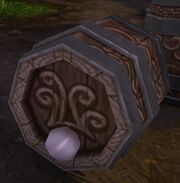 "The Emperor" is a dark, roasty, and high in alcohol beer[1] made by Chen Stormstout, Li Li Stormstout, Mudmug, and the adventurer. Chen brewed it in Halfhill in the Valley of the Four Winds[2] as a response of Uncle Gao's dismissal[3] from the following ingredients:
In addition, the barrels for the brew were obtained by Chen.[4]
The group then took the brew to Stormstout Brewery which was being raided by hozen and water sprites.[5] After defeating the major threat, Chen sent a barrel of the Emperor to Stoneplow.[6]
After the Ik'thik mantid broke the Serpent's Spine and assaulted Stoneplow, Chen, Li Li, and Mudmug were among the defenders, and they brought with them the Emperor. Tended to by Mudmug, the adventurer escorted the pandaren carrying the barrels of the Emperor in his hands through the Stoneplow Fields. They delivered it to the Zhu's Wardens, the Crane Wing priests, the Shado-Pan, the Sentinels, and Dawnchasers fighting against the mantid.[7]
A keg of the Emperor was later brought on Ji-Lu's Cart from One Keg to Neverest Basecamp in Kun-Lai Summit as a supply for Lucky Bluestring and Nephew Bentnail.
Patch changes
References
External links