Objectives
Use the Bravo Company Siege Tank to kill 200 Blackrock soldiers.
Blackrock Invader slain x200
Description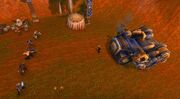 I'm here to help you and Bravo Company end this mess. You're to get in the Bravo Company siege tank and clear a path to Keeshan's Post on the other side of the valley, north of here.
This is a high alert situation soldier as the Blackrock orcs are now aware of your location and sending a large force to meet you head on. Terminate them all with extreme prejudice.
I'll see you on the other side. May the Light have mercy on your soul.
Rewards
You will also receive: 35

Progress
We're ready for the final assault.
Completion
The only thing left to deal with now are the orcs holding out at Stonewatch Keep.
Notes
Hop in the steam tank. Most of the company is inside, but Keeshan is on top manning the turret. The tank has 12,100 health and one ability:
Ram — Rams any enemies in front of the siege engine within 13 yards, dealing 471 to 528 Damage and knocking them back. Instant
Head north through the valley past the Tower of Ilgalar, north to Keeshan's Post at [60.6, 36.7]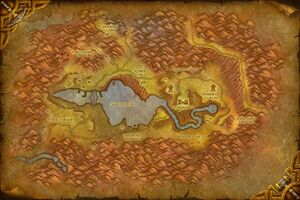 between Stonewatch and Alther's Mill.
While in the steam tank, orcs will continuously spawn and aggro on Keeshan. However, Keeshan is a one-man killing machine, taking out anything that moves with epithets along the way:
John J. Keeshan yells: THERE ARE NO FRIENDLY CIVILIANS!
John J. Keeshan yells: RUN TO YOUR DARK GODS, YOU FILTHY ANIMALS!
John J. Keeshan yells: AAAHHHH!
John J. Keeshan yells: AAHHHHHHHHH!!!!
John J. Keeshan yells: AAHHHHHHHHHHHHHHHHHH!!!!
John J. Keeshan yells: AAAAAAAAAAAHHHHHHHHHHHHH!!!!
John J. Keeshan yells: BLOOD AND THUNDER, RIGHT!?
John J. Keeshan yells: I CAN'T FIND YOUR LEGS, JOEY! I CAN'T FIND YOUR DAMNED LEGS!
After killing 200 and getting safely to the post with Troteman, get out of the vehicle to stop the event.
Progression
Optional breadcrumb from: NPCs or Hero's Call Boards.
 [7-30] 

Still Assessing the Threat

 [7-30] 

Parker's Report

 [7-30] 

We Must Prepare!

 [7-30] 

Tuning the Gnomecorder

 [7-30] 

Canyon Romp

 [7-30] 

They've Wised Up...

 [7-30] 

Yowler Must Die!

 [7-30] 

John J. Keeshan

 [7-30] 

This Ain't My War

 [7-30] 

In Search of Bravo Company

 [7-30] 

Breaking Out is Hard to Do

 [7-30] 

Jorgensen

 [7-30] 

Krakauer

 [7-30] 

Return of the Bravo Company

 [7-30] 

They Drew First Blood

 [7-30] 

It's Never Over

Complete all of:
 [7-30] 

Prisoners of War

 [7-30] 

Detonation

 [7-30] 

The Dark Tower

 [7-30] 

The Grand Magus Doane

 [7-30] 

AHHHHHHHHHHHH! AHHHHHHHHH!!!

 [7-30] 

Showdown at Stonewatch

 [7-30] 

Triumphant Return
Patch changes
External links