This function is protected, and may only be called in response to a hardware event.

It has been protected since patch 8.3.0.
Places a bid on a non-commodity item.
C_AuctionHouse.PlaceBid(auctionID, bidAmount)

Arguments
auctionID 

number

bidAmount 

number

- Amount in copper, only accepts gold and silver and ignores non-zero copper counts.
Example
Buyout the currently selected auction (requires you to click a specific price listing from the available auctions first).
/run C_AuctionHouse.PlaceBid(AuctionHouseFrame.ItemBuyFrame.auctionID, AuctionHouseFrame.ItemBuyFrame.BuyoutFrame.price)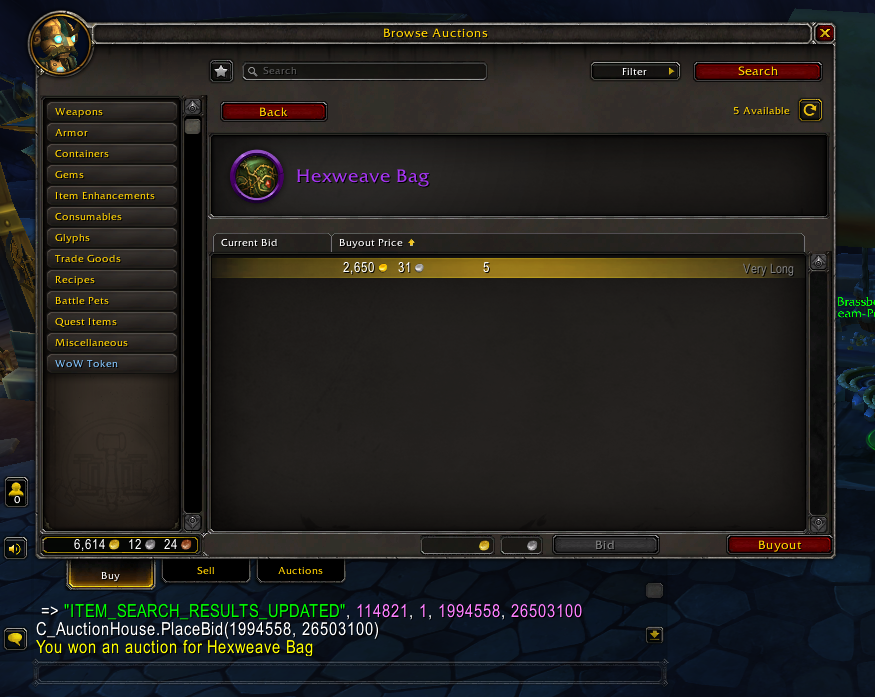 /run AuctionHouseFrame.ItemBuyFrame.BuyoutFrame.BuyoutButton:Click()
/click StaticPopup1Button1

Patch changes
C_AuctionHouse Navbox
 

Global API

Searches are split into 4 sections:
- Browse (does queries by name and item key)
- Search (including SellSearch) that returns per-auction results for use when buying or selling
- Owned (similar to Search, but for auctions you've posted)


- Replicate (returns all current auctions on the AH, but in a way that is incompatible with the other searches)

 
ItemKey
Purchase
Post
Cancel
Bid Info

Browse

Search

Owned

Replicate

Favorites
Window
 

Events

 
Purchase
Post
Cancel
Bid Info

Browse

Search

Owned

Replicate

Favorites
Throttled
Window