A Champion's Collar

Start
Instructor Devoran [90.2, 56.4]
End
Instructor Devoran [90.2, 56.4]
Level
30-35
Category
Mount Hyjal
Experience
27700
Reputation
+250 Guardians of Hyjal
Rewards
7 80
Previous
 [30-35] 

Walking the Dog

Next
 [30-35] 

Grudge Match
Objectives
Obtain the Spiked Basilisk Hide from the Spinescale Matriarch.
Description
This little guy is a true menace now, isn't he?
We're going to have to give him a nice spiked collar if he's going to be a fighting pup.
The basilisk matriarch has made her lair off of the road to Winterspring. Bring me her spiked hide and we'll fashion a collar for our little killer here.
Rewards
Progress
Did you get it?
Completion
Excellent! Our pup is ready for a fight.
Notes
Follow the road to the north toward Winterspring. Off to the left of the road at [84.6, 47.0]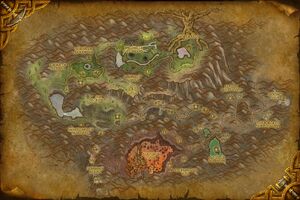 is the matriarch. Kill her and loot her hide.
Progression
Patch changes
External links