A Deadly Vine
Objectives
Collect 5 pieces of Corpseweed.
Description
I need large amounts of corpseweed for Master Harris's concoctions. It's difficult to obtain, but we can't let our supply dwindle.
Corpseweed is tough stuff to tangle with... the plant will get you before you get it, if you're not careful! But if you'd like to help out, I'll eagerly pay you for any you gather yourself.
You'll find plenty of it all over the Yorgen Stead to the southeast.
Progress
Do you have the corpseweed?
Completion
I thank you, <class>... and I'm sure the worgen that may be returned to sanity with the potion this will make would thank you too.
Rewards
You will receive: 17
Notes
Pick up

 [24] The Yorgen Worgen before entering the Yorgen Farmstead.
Corpseweeds are ambulatory plants, so kill them to collect them. The Mound of Loose Dirt is at [49.9, 77.7]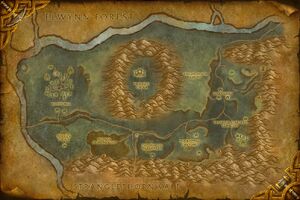 between the farmhouse and the stables. Interact with it and a Lurking Worgen will jump out from the woods and knock the adventurer down, stunning it, before jumping away behind the stables.
Progression
Patch changes
External links