A Delivery for Thorg'izog
Objectives
Using your

 [Blackrock Disguise], bring the Slider Cider-Marinated Cutlets to General Thorg'izog at Firegut Furnace in Burning Steppes. Speak with Colonel Troteman if you need a new Blackrock Disguise.
Description
General Thorg'izog is staying among the ogres in the Firegut Furnace, a cave on the western edge of Dreadmaul Rock. I'd like you to deliver this to him and the ogres.
Inside this package, you will find the worg cutlets that you obtained, marinated in the fel slider cider that we took from the Altar of Storms.
I would avoid eating it if I were you.
Bring it to General Thorg'izog. He will make sure that his troops are fed and, with any luck, he will eat some himself.
Rewards
You will receive: 40
Progress
What've you got there, soldier?
Completion
Well would you look at that! My favorite soldier comes through in the clutch!
I'll make sure to get this distributed among the ogres.
I'll see you in Redridge, soldier. For the glory of the Blackrock!
Notes
Pick up

 [51] A Delivery for Neeralak and

 [51] A Delivery for Xi'lun before heading out. Put on the costume and mount up. The entrance to Firegut Furnace is at [65.2, 46.6]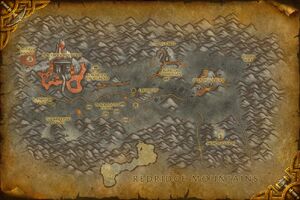 on the ground level of the west side of Dreadmaul Rock. Head in and keep taking forks to the left to find the general.
On complete:
General Thorg'izog yells: Come on boys, let's eat! My favorite soldier brought enough worg for everyone!
After completing all three, Troteman radios in with

 [52] Locked and Loaded.
Progression
Optional breadcrumbs:

 [50] Mouton Flamestar or

 [50] Hero's Call: Burning Steppes! or

 [50] Warchief's Command: Burning Steppes!
Optional breadcrumb to Swamp of Sorrows:

 [52] The Bogpaddle Bullet
Patch changes
External links