Objectives
Bring the Giant Crate of Giant Food to Captain Smotts' lifeboat, then use it to summon and kill Negolash.
Description
Take this food, and put it in our old lifeboat, southeast of here along the coast. When Negolash smells all that food, he'll come running!
And when he does, there will be a stouthearted <class> ready to knock his corpse back into the briny deep.
Rewards
You will receive: 1

.
Completion
I can't believe my fortune, <name>! Meeting you has turned my luck to the better, make no mistake there!
If I ever get a new ship and you're looking to sail the seas, you would be my honored guest.
Notes
Head towards the quest marker, then look just southwest of it on the coast. There is a clickable Ruined Lifeboat at [49, 81]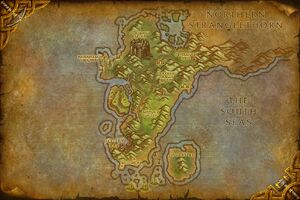 , next to two palm trees.
Progression
Patch changes
External links