A Fragile Crucible

Start
Deucus Valdera
End
Deucus Valdera
Level
45 (Requires 45)
Category
Alchemy
Experience
16,450
Rewards
18 28 50
Previous
  [10-45] 

Return the Filter

Next
  [45] 

Lining the Crucible
Objectives
Bring the Fragile Demonsbreath Crucible to Deucus Valdera in Dalaran.
Description
I have customers asking for alchemist stones, but I'm unable to make any until I replace my crucible.
In order to create a new one, we'll need a few things, but first we'll need a proper container. Something that can be augmented to withstand a demon's breath.
There's a place in Suramar which the Legion has occupied. There surely must be a device there we can take that will be suitable for our needs.
Rewards
You will receive:
Progress
I trust you're strong enough to handle a few demons?
Completion
You've found something quite intriguing here! Others have brought me fragments of such implements, but never so complete a sample.
This is going to require a lot of work...
Notes
The quest item is in Felsoul Hold.[29.7, 82.9]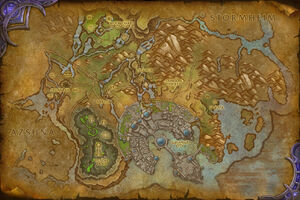 Progression
100

1.   [10-45] 

Get Your Mix On

3.   [10-45] 

The Search for Knowledge

102

104

106

108

110

19.   [45] 

A Fragile Crucible

20.   [45] 

Lining the Crucible

21.   [45D] 

Vault of the Wardens: Demon's Bile

22.   [45D] 

Bendy Glass Tubes

23.   [45] 

Going Underground

28.   [45] 

Channeling Our Efforts

29.   [45H] 

Halls of Valor: The Prime Ingredient

30.   [45H] 

Black Rook Hold: Heavy, But Helpful

31.   [45H] 

Maw of Souls: A Hope in Helheim
Patch changes
External links