Objectives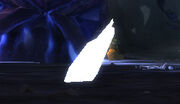 Bring the Sha-Haunted Crystal to Ambersmith Zikk at Klaxxi'vess.
Provided item: Sha-Haunted Crystal
Description
<The clutch-keepers seem to be using these blinding white crystals as magical foci. Peering inside, you see thick tendrils of black smoke swirling in the center. One of the workers at Klaxxi'vess may know more about this material and why it is so abundant in the wastes.>
Rewards
Completion
Do you have any idea what that is? It's amber!
But it is polluted with fear.
I would not expect an outsider like you to understand the consequences of this.
Gains
Notes
While killing Shek'zeer Swarmborn for

 [30-35] Not Fit to Swarm, not the Sha-Haunted Crystal in the middle of the spawn camp. It starts this quest.
Progression
Complete all of:
Complete all of:
Next:

 [30-35] Amber Is Life,

 [30-35] Extending Our Coverage →
Patch changes
External links