A crate of Abandoned Cargo is found at [67.9, 59.6]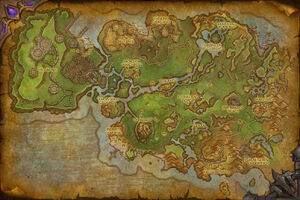 south of the east-west trail from Anguish Point in east-central Nagrand. The crate contains a random uncommon BoE drop.
Just to the northwest is Gnarlhoof the Rabid, a rare talbuk.
Tracking quest
To check whether this chest has been looted, copy and paste this command into the chat window:
/run print(C_QuestLog.IsQuestFlaggedCompleted(35759))
If a "true" appears in the chat window, this chest has been looted; "false" indicates the opposite.
Patch changes
External links