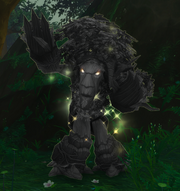 Acolytes of Elothir are night elven druids located in Val'sharah that studied under Elothir. They were being turned into stone by harpies until rescued by the class leaders.
Objective of
Quotes
Ahh, to breathe again!

Bless you, stranger!

I felt myself slipping away...

I live!

You have my gratitude, traveler.

You... you have saved me!
Trivia
The females are voiced by Kate Higgins.
Only the female druids are voiced.
Patch changes
External links