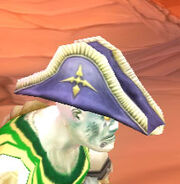 The Admiral's Hat is crafted with Tailoring (240); taught by

 [Pattern: Admiral's Hat], sold by Cowardly Crosby in the Cape of Stranglethorn.
Notes
The hat must be worn for the buff to remain. If you use the hat and then remove it, the buff will disappear. This is also the easiest of the three pirates hats to obtain, since tailors make it. The other two are

 [Bloodsail Admiral's Hat] and

 [First Mate Hat].
Patch changes
Patch 4.1.0 (2011-04-26): No longer requires  

[

Long Elegant Feather

]

. Material requirements adjusted.

Patch 1.8.0 (2005-10-10): The effect of the Admiral's Hat has been changed. You can now click the Admiral's Hat to provide yourself with an aura that gives you and your nearby party members a stamina increase. Taking the hat off will remove the effect.

External links