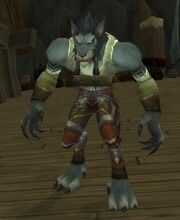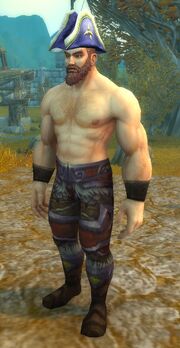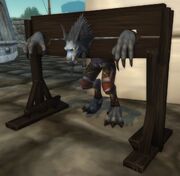 Admiral Ripsnarl, formerly known as James Harrington, is a worgen employed by the Defias Brotherhood. He had a family and a successful naval career until he was infected with the worgen curse.
Background
During the Westfall storyline quests he is found in stocks at the Sentinel Hill and is later freed by Vanessa VanCleef,[2] so he can command the Defias Juggernaught that is being built in the Ironclad Cove.
Adventure Guide
When James Harrington became afflicted by the worgen curse, he destroyed his loving family and maritime career in one chilling night of bloodlust. Taking on the name Ripsnarl, he fled into Westfall and later agreed to command the Defias Brotherhood's fearsome juggernaut.
Abilities
Admiral Ripsnarl's Abilities
Vapor's Abilities
Strategy
Phase 1
Admiral Ripsnarl has a buff called Thirst for Blood, which gives him a 10% (20% heroic) attack speed and a 5% (10% heroic) movement speed increase per stack, stacking up to 20 times, for each successful melee attack he performs. Melee DPS should stay behind the boss to not be hit by Swipe. Every once in a while he will cast Go For the Throat on a random party member, stunning the member for 2 seconds.
Phase 2
Every 25% health, he will vanish and the ship's deck will be overrun by fog. A few adds called Vapors will spawn and need to be killed immediately. In heroic mode, if not killed immediately these mobs will deal tremendous damage and wipe out the party. After a certain amount of time or when the vapors are all dead, Admiral Ripsnarl will cast Go For the Throat on a random group member, stunning them for 2 seconds, and reappear. At around 25% he will disappear into the fog again, but this time he will cast Go For the Throat whilst the adds are continuously spawning, at this point you should cast all your CDs and give it your best on Admiral Ripsnarl and not take note of the adds.
When Ripsnarl dies, all of the vapors will despawn, and "Captain" Cookie will spawn inside the hut.
Loot
Objective of
Related achievements
Quotes
Aggro

Ah, fresh meat!
Fog

Do you feel that chill running up your spine?

The fog is rolling in...
Go For the Throat
I can smell your fear...

I will rip your heart from your chest!
Killing a player

Your blood only increases my hunger!
Death

You will... NOT find her... until it is too late...
Notes
Relatives
| | |
| --- | --- |
| | This section includes speculation on characters that might be related, usually because they may share a last name. It should not be taken as representing official lore. |
He might be related to J. M. Harrington, Willard Harrington, David Harrington, and Apothecary Harrington.
Videos
Patch changes
See also
References
^ Ultimate Visual Guide, pg. 105
^  [5-30] 

Rise of the Brotherhood
External links