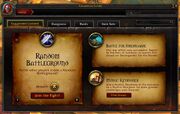 The Adventure Guide, also known as the Adventure Journal, was introduced in patch 4.2.0 as the Dungeon Journal but later revamped in patch 6.2.0. It lists the phases, abilities, and loot of bosses for raid instances, outdoor raids, dungeons and suggests content at your current level. Notably, the guide does not directly specify tactics to overcome the abilities, leaving the players to figure out the encounter strategy on their own. Each expansion has its own background color.
The Adventure Guide unlocks once the player reaches reached level 11.
Suggested Content
The Adventure Guide suggests content based on a number of factors, such as character level, item level, quest progress, achievements, and more. The Guide is fully interactive, allowing players to accept relevant quests or search for a group via Group Finder with a single click.
Alerts
Alerts are small icons that bring attention to more important abilities, effects, or even mobs during encounters within the Adventure Guide.
The following icons and what they generally mean:
Instances covered
Gallery
Since Legion
After Patch 6.2
Since Cataclysm
Concept
Notes
Patch changes
Adventure Guide

Dungeons
Raids
 

Expansion features