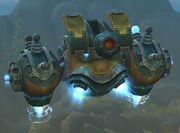 Aerial units[1][2] are vertical take-off and landing (VTOL) flying machines that were created by the mechagnomes of Mechagon Island. They are used both by the Arcforged loyalists and the Rustbolt Resistance and can be both autonomous or piloted by someone.
Known
CK-9 Micro-Oppression Unit
As mount
Trivia
In the game files, they are known as "hunter-killers", similar to the flying robots of the Terminator series.
References
Creature group
Mechanical creatures