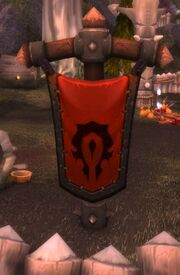 Objectives
Plant 3 Horde Banners in Blackwood Den.
Description
Nothing rallies the Horde more than their banner standing in the ruin of an enemy stronghold.
Go to Blackwood Den, take the territory there, raise the Horde banners and let none question our dominance over this land.
Rewards
You will receive:
Completion
This is not a time for subtle gestures.
Notes
Pick up
 [110] The Blackwood Den before heading out.
Kill Corrupted Blackwoods and Maddened Blackwoods while planting the three banners.
Sylvanas, accompanied by grunts, sappers, shredders, is just outside the camp to turn in.
Progression
Patch changes
External links