Aiding the Shadowlands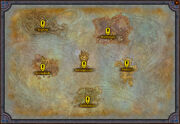 Objectives
Choose where to go in the Shadowlands.
Description
There is much to do within the Shadowlands. Many areas are suffering from the anima drought.
The choice of who to help first is yours. Where will you go?
Progress
Who will you aid?
Notes
Speak with Tal-Inara:
Your Purpose and ours are entwined it seems.
 Show me how I can help the Shadowlands.
This opens the Shadowlands scouting report interface, which allows you to choose the zone you want to level in:
After you pick a zone, this quest is silently removed from the quest log, and the chosen quest is ready to turn in to Tal-Inara.
Progression
 [50] 

The Threads of Fate

 [50] 

Re-Introductions

 [50] 

Aiding the Shadowlands

Choose a zone:
 [50] 

The Next Step

(choose a second zone)
 [50] 

Furthering the Purpose

(choose a third zone)
 [50] 

The Last Step

(the remaining zone)
Patch changes
External links