For the tablet, see Akali (object).
Akali is a Drakkari rhino loa. He is held in chains by his worshipers outside the gates of Gundrak.
At Har'koa's behest, adventurers free Akali who is quick to kill his subduers. However, the Prophet of Akali notices and declares "Enough", after which he drinks of the loa's blood, claiming some of his power. Infused by power of the loa, the prophet swiftly kills Akali.
Worshipers
High Prophet
Prophet
Followers
Quests
He is involved in the following quests:
Quotes
Akali yells: I'M FREE, LITTLE DRAKKARI. TIME TO PAY FOR YOUR MANY TRESSPASSES!
Akali kills dozens of Akali Subduers.
Prophet of Akali yells: ENOUGH!
Prophet of Akali yells: And now, Akali, my master will have your blood and I will take some of your power as well!
The Prophet kills Akali.
Prophet of Akali yells: It is done. Run back to your masters. Run back to Har'koa. Tell her that I am coming!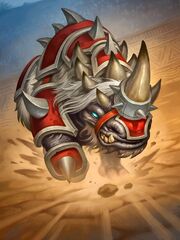 In Hearthstone

This section contains information exclusive to Hearthstone and is considered non-canon.
In the Hearthstone expansion Rastakhan's Rumble, Akali serves as the patron of Akali's Rhinos, a team of troll warriors, and personally appears as a legendary warrior card. His flavor text reads: "Most trolls only get to "AAAAHHH!" and don't make it to the "kali" part."
Notes and trivia
After the Prophet of Akali kills the loa's physical manifestation, all that remains is the blood, or "mojo" of the loa.[1] Archmage Lan'dalock planned to keep the essence of Akali safe until it could be handed over to the Zandalar tribe, wondering if they could reincorporate Akali from it.[2]
Patch changes
See also
References
External links