For the Boralus store, see Albatross (store).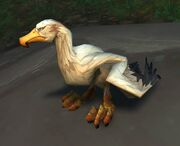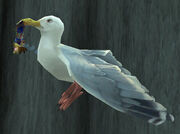 Albatrosses are large, coastal-dwelling birds similar to seagulls. Many sailors believe that harming an albatross will bring terrible luck upon their voyage.[1]
Types
As a companion pet
As a mount
As a hunter pet
Main article: Carrion bird
These birds can be tamed as carrion birds.
In Warcraft III

This section concerns content related to Warcraft III: Reign of Chaos or its expansion The Frozen Throne.
Albatross appeared as critters.
Patch changes
References
Creature group
Beast creatures

 

Arthropod

Arachnid
Crustacean
Insect

 

Mammal

Carnivoran
Ungulate

Bovids
Camelids
Cetaceans
Proboscids
Swine

Critter creatures

Amphibian
Arachnid
Bird
Crustacean
Fish
Insect
Mammal
Reptile
Other