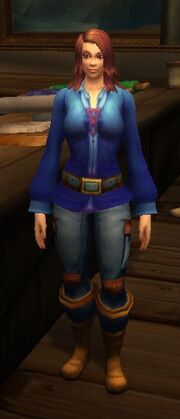 Alexandra Bolero is a human tailoring vendor located in the Mage Quarter of Stormwind City. She works in the tailoring shop Duncan's Textiles, run by Duncan Cullen, her responsibility being to sell necessary supplies to aspiring tailors. The shop may be found in the east of the Mage Quarter, near the exit to the Trade District. Alexandra can be found standing behind the counter of the shop, beside Duncan Cullen.
Vendor information
Quotes
Gossip
Since the fall of Dalaran and the destruction of Quel'Thalas, wares of this sort have been hard to come by. But Lucan Cordell and some of our other Tradesman[

sic

] have been doing a fine job of filling our orders with quality merchandise.
I sell only the finest arcane gear, made by the crafters and mages here in the city of Stormwind.

 I want to browse your goods.
Notes
She is related to the nearby Georgio Bolero, although the nature of this relationship is not known.
See also
External links