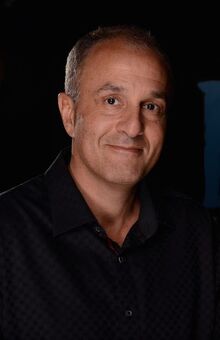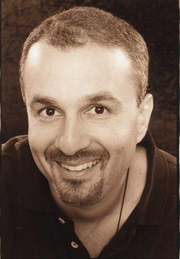 "Allen is the genesis of Blizzard." - Michael Morhaime[1]
Allen Adham is an Executive Producer and one of the original founders of Blizzard Entertainment.[2][1] After leaving the company in 2004, Adham returned to Blizzard in 2016.[1] In 2018, he was made part of the company's "executive leadership team."[3]
History
Adham states that he played videogames from "a very early age,"[4] the first being Pong. At fourteen he started writing code and making his own games, which he continued through high school and college.[4]
After enrolling in the computer science program at UCLA, and spending his summers in coding jobs on a number of successful games, Adham hit upon the idea of starting a gaming company of his own.[1] Proposing "something fun and different", he convinced fellow students Michael Morhaime and Frank Pearce to join him in creating Silicon & Synapse, which would later change its name to Blizzard Entertainment.[1]
Adham served as the young company's "executive producer" or game director, leading top-level design decisions as well as programming for the company's early titles including Warcraft: Orcs & Humans, and was the original lead designer for World of Warcraft, "[setting] the course" for the game's subsequent development.[1] At the time, he was running both Blizzard and acting as the game's lead designer, working seven day, 14-16 hour weeks.[5] In 2004 he left Blizzard, moving into the financial sector, which he described as "another big form of video game".[1] Despite his career, Adham still found time to play "every game Blizzard released", including "a lot of World of Warcraft".[1] Adham came to regret his decision in 2006, and has stated that in hindsight, he should have just taken a year off.[5]
After more than a decade away from the company, it was announced at BlizzCon 2016 that Adham would be rejoining Blizzard. Adham states, "I'm free to say it now ... In hindsight, leaving Blizzard was probably the biggest mistake I made in my life. What I should have done was just take a sabbatical. I've been eager to come back for a decade now." As of late 2016 Adham is working on new projects, or as he describes it, "cool new stuff".[1] Some of these projects are new IPs.[6]
Trivia
Adham received his bachelor's degree in 1990 from UCLA.
Adham plays games about 4 hours a day—2 hours on PC/console in the day, 2 hours on mobile in the evening.[5]
His favorite game of all time is EverQuest.[5]
Adham is color-blind.[7]
References
^ a b c d e f g h i Polygon.com - Blizzard's prodigal son returns (2016-11-04). - "Allen is the founder of Blizzard, not a founder."
^ BlizzCon 2017, "Behind Blizzard's Worlds"
^ 2018-10-04, Activision Blizzard Names J. Allen Brack As New President of Blizzard Entertainment. Blizzplanet, retrieved on 2018-10-04
^ a b BlizzCon 2016 Blizzard 25th Anniversary Panel Transcript (2016-12-20).
^ a b c d 2018-11-08, Our Full BlizzCon Interview With Blizzard Co-Founder Allen Adham. Game Informer, retrieved on 2018-11-19
^ 2017-08-04, Blizzard Has Multiple New IPs Incubating But Won't Rush Them Out. GameSpot, retrieved on 2017-08-05
^ 2021-02-21, THE LOST VIKINGS AND HOW WE LEARNED TO LOVE MULTIPLAYER PUZZLES. Blizzard Entertainment, retrieved on 2021-04-21
External links