Alliance Battle Standard
Use: Place a Battle Standard with 1500 health that increases the maximum health of all party members that stay within 45 yards of the Battle Standard by 15%.  Lasts 2 min. The Battle Standard may only be used in PvP Battlegrounds. (10 Min Cooldown)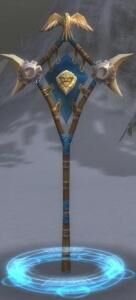 Alliance Battle Standard is a reusable item that can be carried and used to buff your party in PvP battlegrounds.
Source
This item is a PvP reward and can be purchased for 1
from Master Sergeant Biggins <Officer Accessories Quartermaster> in Champions' Hall.
See also

 [Horde Battle Standard]
Patch changes
External links