The subject of this article was removed in patch 4.0.3a but remains in World of Warcraft: Classic.

This does not exist on the retail realms anymore.
The categories should reflect this, and should not include retail realm categories.
For the outrunners as such, see Outrunner.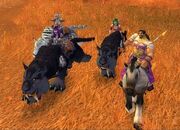 The Alliance Outrunners are a group of four (sometimes just three) level 21-25 elite Alliance NPCs patrolling the Barrens, from Bael Modan in the south to Lushwater Oasis in the north. They are usually found near the Southern Gold Road. They have a tendency to gank unsuspecting Horde players, and these victims usually return to gank them at a higher level in return.
The outrunners are in contact with the dryad Rynthariel, the leader of the Talon Den.[1]
Members
See also
References
^  [29] 

Horde Presence