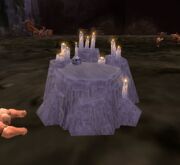 The Altar of Suntara is one of the fixed devices excavated by the Dark Iron Dwarves in Searing Gorge alongside Obsidion. When interacted with, the following occurs:
The altar seems to beckon you as if it were alive.
 "Touch the Suntara stone and call forth Lathoric the Black and his guardian, Obsidion."
Quest
External links