Alynna Whisperblade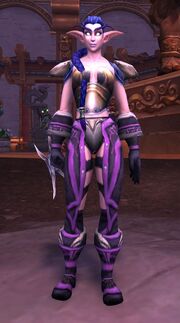 Alynna Whisperblade is part of the force serving under Lyalia which traveled to Pandaria. Along with the rest of her group, she was temporarily trapped in the Incursion in Krasarang Wilds. She can later be found at the Shrine of Seven Stars in the Vale of Eternal Blossoms. After the defilement of the Vale, she moved before the Shrine.
Quotes
Gossip
In Krasarang Wilds

Even the very air is ripe with sadness.
Us meeting on these shores is more than just random chance.
 What is wrong with the portal?
An arcanic oubliette. Thankfully the walls of this ruin have collapsed away otherwise we would have been trapped in this one spot without food or water.
Seems whoever built these ruins designed them to be a prison for anyone attempting to portal to the coordinates we were travelling to.
It is also lethal to any mages that pass through it. Look what it did to our poor arcanist.
The good news is we can still communicate with the other side and were able to warn them not to send anyone else through. The bad news is we are stuck on the wrong side of what is now a one way portal.
At Shrine of Seven Stars
Us meeting in this Vale is more than just random chance.
Tyrande sent us here as a vanguard for the Light.
Garrosh's pride has destroyed the Vale. What was will never be restored.
The subject of this section has been removed from World of Warcraft.
The air here is ripe with serenity and joy.
Patch changes
External links