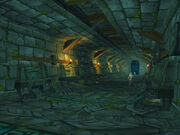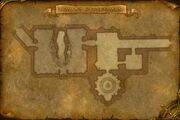 The Amani Catacombs are a series of mummy-infested forest troll crypts in the Ghostlands, located northeast of Tranquillien in the mountains. The adventurers are sent there to confirm the rumors of mummified trolls rising from the dead. There are Burial Chests scattered throughout the catacombs, making it one of the first places where blood elf rogues can put their
[Pick Pocket] ability into practice. Ranger Lilatha is imprisoned in a cage in the circle-shaped room.
NPCs
Quests

The subject of this section was removed from World of Warcraft in patch 4.0.3a.
External links