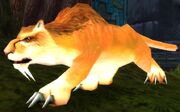 Amani Lynx Cubs are lynxes found in Zul'Aman.
Abilities
  Dash — Increases movement speed by 60% for 10 sec. Does not break prowling.
  Gut Rip — Reduces an enemy's Stamina by 5% for 6 sec.
  Stealth — Puts the caster in stealth mode.
Strategies
Patch changes
Patch 4.1.0 (2011-04-26): New model updated, Statistics updated for level 85 version of the instance.

Patch 2.3.0 (2007-11-13): Added.

External links