Amber Glitterwing
Use: Teaches you how to summon this companion.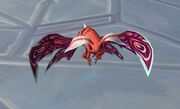 Amber Glitterwing is obtained from capturing the Desiccated Moth in Blackthorn Grove in Ardenweald.
Pet Journal
Much like how a squid can squirt ink to escape in the water, a glitterwing can shake the dust off of its wings and similarly vanish.
Battles
Trivia
During early development, this pet was simply named Orange Ardenweald Moth.
Patch changes
External links
Battle pet types
Beast battle pets

Archetype of Cunning

Archetype of Discovery

Archetype of Predation

Bloodfeaster Spiderling

Blushing Spiderling

Copperfur Kit

Corpulent Bonetusk

Goldenpaw Kit

Green Viperid

King Viperid

Momma Vombata

Red Viperid

Rosetipped Spiderling

Ruby Baubleworm

Rustfur Kit

Sable

Tarachnid Ambusher

Tarachnid Stalker

Topaz Baubleworm

Tunneling Vombata

Turquoise Baubleworm

Verdant Kit

Viperid Menace

Vombata Pup