Ambush

Ambush
Level 7 rogue ability
Melee range
50 Energy
Requires Melee Weapon
Requires Stealth
Ambush the target, causing (95.472% of Attack power) Physical damage.



Awards 2 combo points.

Usable by
Class
Rogue
Properties
School
Physical
Cooldown
None/Global Cooldown
Other information
Level learned
7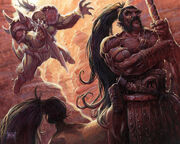 Ambush is a level 7 rogue ability. It is a powerful instant attack performed while Stealthed.
Subtlety rogues replace it with

[Shadowstrike] at level 12.
Tips and tactics
Very effective in taking out cloth-wearing targets quickly.
Ambush is arguably preferable over

[

Cheap Shot

]

in PvP as an opener against mages, as a mage's

[

Blink

]

ability is usable while under a stun effect.
A critical hit with an Ambush followed by an Improved Sinister Strike (or a well-timed

[

Backstab

]

) can put an enemy at a severe health disadvantage from the beginning of the fight, in addition to starting you off with 2-3 Combo Points.
A quickly-executed "Ambush -> Vanish -> Ambush" combo attack can inflict severe damage on any single target.
Trivia
Patch changes
See also
External links