The subject of this article was removed in patch 4.0.3a but remains in World of Warcraft: Classic.

This includes items and quests that can no longer be obtained or are now deprecated.
The categories should reflect this, and should not include retail realm categories.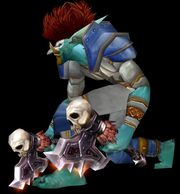 Ancient Hakkari Manslayer is a one-hand axe with a life stealing proc.
Source
The axe drops off Hakkar the Soulflayer in Zul'Gurub with an estimated drop rate of 6%.
Notes
Patch changes
Patch 4.0.3a (2010-11-23): No longer obtainable.

Patch 1.11.0 (2006-06-19): This item will no longer trigger erroneously on the strike which kills the target.

Patch 1.7.0 (2005-09-13): Added.

External links