Ancient Runebound Tome
Use: Carefully crate the restored artifact.
"Artifact details have already been logged in your Archaeology Journal, under the Completed Artifacts tab."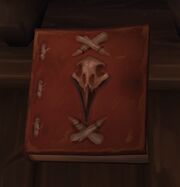 Ancient Runebound Tome...
Description
Ancient Runebound Tome
Tomes were often kept by the strongest of the Drust, preserving the incantations of their magics and serving as conduits for harnessing their power. Scholars have tried to translate the ancient language transcribed within these tomes, only to find themselves going mad as they furthered their understanding of what had been written.
Patch changes
External links