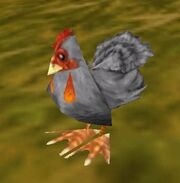 The Ancona Chicken is a chicken pet companion.
Source
This item is sold by "Plucky" Johnson, a chicken that runs about in Tirth's Haunt, for 1

. When you manage to catch up with it, he will turn into a man and offer the chicken for sale. Alternatively, killing Mad Magus Tirth will turn the chicken into the vendor NPC.
This pet is also a possible reward from
 [Growling Sac].
Pet Journal
It thinks you taste like chicken too.
Battles
Notes and trivia
Patch changes
External links
Battle pet types
Flying battle pets

Ancona Chicken

Archetype of Motion

Archetype of Satisfaction

Battie

Bloodsucker Vespoid

Dusty Sporeflutterer

Enraged Poultrid

Fluttering Glimmerfly

Foulwing Buzzer

Fuzzy Shimmermoth

Gilded Wader

Helpful Glimmerfly

Larion Pouncer

Multichicken

Necroray Spawnling

Pearlwing Heron

Scarlet Proto Avian

Sinfall Screecher

Stony

Vibrant Glimmerfly

Wader Chick

Wild Etherwyrm