The subject of this article was removed from World of Warcraft in patch 3.0.2.

This includes items and quests that can no longer be obtained or are now deprecated.
The in-game information in this article is kept purely for historical purposes.
Andonisus, Reaper of Souls
Item Level

100

Stratholme
Duration: 5 min (real time)
Sword
Speed 2.80
184 – 343 Damage
(94.1 damage per second)
+600 Attack Power
Equip: Increases melee and ranged attack power by 600.
Requires Level 60
"This blade is dimensional. It appears to be fading from this plane of existence."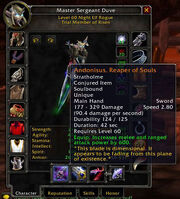 Andonisus, Reaper of Souls was a main hand sword designed to help in the battle against Atiesh.
Source
Andonisus was a legendary sword and dropped off Atiesh, a summoned demon in Stratholme which was part of the [Atiesh, Greatstaff of the Guardian] quest line. Atiesh dual wielded this weapon at the beginning of the fight and in the course of the battle dropped one sword which a player could then use against him.
Notes
Disappeared if taken out of Stratholme or after 10 minutes.
Patch changes
External links
 

Encounter-limited weapons
 

Items
 

Quest items
 

Removed from game

Permanent weapons
Encounter-limited weapons
Items
Quest items