For the item, see  

[

Angelic Feather

]

.
Angelic Feather

Angelic Feather
Level 30 Discipline, Holy priest talent
40 yd range
20 sec recharge
Places a feather at the target location, granting the first ally to walk through it 40% increased movement speed for 5 sec. Only 3 feathers can be placed at one time. Maximum 3 charges.

Usable by
Class
Priest
Properties
School
Holy
Recharge
20 seconds
Other information
Level available
30
Related buff

Angelic Feather
Movement speed increased by 40%.
Duration: 5 seconds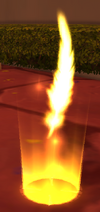 Angelic Feather is a level 30 Discipline and Holy priest talent.
Patch changes
External links