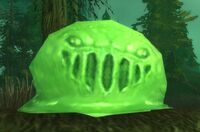 Objectives
Kill 5 Angry Blight Slimes.
Description
These blight slimes seem to be really angry. They've even got a faint of an angry humanoid face in their ectoplasm. You don't think Hinott would be too happy having non-compliant slimes working the slime pools.
Kill any angry blight slimes that you see and try to get a lock on a breeding pool.
Completion
All signs indicate to a breeding pool being inside the ruined town hall. You'll need to investigate!
Notes
You get this quest automatically when killing any Angry Blight Slimes at the Ruins of Southshore.
Progression
Introduction and Azurelode Mine
Optional breadcrumbs:
 [7-30] Empire of Dirt or
 [7-30] Warchief's Command: Hillsbrad Foothills!
Sludge Fields
Ruins of Southshore
 [7-30] 

Trouble at Southshore

 [7-30] 

Studies in Lethality

&  [7-30] 

Green Living

&  [7-30] 

Helcular's Rod Giveth...

&  [7-30] 

Helcular's Command

Side quest:  [7-30] 

Angry Scrubbing Bubbles

,  [7-30G2] 

Trail of Filth
Purgation Isle
Tarren Mill
Alterac Mountains
Patch changes
External links