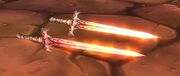 Animated objects of different kinds can be found in World of Warcraft.
Examples

This section contains information from the Warcraft RPG which is considered non-canon.
Stone guardians may be referred to as "animated statue" for example,

Animated Statue of Archaedas

.[5]
Manual of Monsters
In Manual of Monsters Appendix Three, the animated objects are given a description, however the validity of the source is disputed.
Gallery
References