Antonio Perelli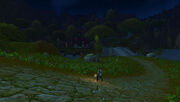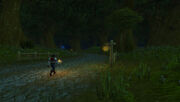 Antonio Perelli is a wandering human exotic goods vendor usually found travelling the roads from Lakeshire in Redridge Mountains to Sentinel Hill in Westfall, counter clock-wise, via Goldshire in Elwynn Forest (on the way) and Darkshire in Duskwood (on the way back).
He sells a variety of different goods. He has numerous exchanges of dialogue as he travels his route which takes the form of him conversing with an acquaintance or a monologue about his route. He will stop for a short time at each of the towns (as well as Eastvale Logging Camp and Raven Hill) before continuing his route. From his dialogue, it is revealed that he very much despises the Duskwood leg of his journey, describing it as dangerous. According to his dialogue, it takes him about one week of in-game time to complete his journey. The type of merchandise he sells differs depending on when and where you find him.
Sells
Quotes
Upon arrival to Goldshire:
Antonio Perelli says: Come one, come all! Antonio's wares are for sale.
I may not return for a great deal of time, so come one, come all.
Upon arrival to Goldshire (alternate)
Antonio Perelli says: Wares for sale! Wares for sale! come and browse Antonio's wares before I must take my leave, citizens of Goldshire.
Upon leaving Goldshire for Westfall:
Antonio Perelli says: Good bye, Goldshire. I'll be back soon enough-- Perhaps a week's time.
arriving to Sentinel Hill:
Antonio Perelli says: Know throughout the lands, Antonio Perelli's goods now for sale near Sentinel Hill!
I must move on soon, so make haste.
leaving Sentinel Hill for Duskwood:
Antonio Perelli says: Thank you, all. I shall return again in about a week.
When about to enter Duskwood from Westfall:

Antonio Perelli lets out a deep sigh.
Antonio Perelli says: I hate this part of my job. Oh, Duskwood, be gentle with poor Antonio.
Leaving Darkshire:
Antonio Perelli says: Farewell, citizens of Darkshire. Untilll[

sic

] next time...
When entering Redridge from Duskwood:
"Finally, Redridge. A pleasant change from the cold, dark fog of Duskwood."
When arriving in Lakeshire, Redridge he has the following conversation with Amy Davenport
Amy Davenport says: Hello, Antonio. It's good to see you safely made it here again. let me know if you need anything.

Antonio Perelli says: Items powerful enough to help make the journey through Duskwood, Antonio perelli's goods are now for sale here in Lakeshire.
... and when leaving Lakeshire
Antonio Perelli says: Good to see you again, Amy. Be safe, luv. I'm off to Goldshire now.

Amy Davenport says: Take care of yourself, Antonio. I'll see you in another week.
as he crosses the river-bridge near Eastvale Logging Camp:
Antonio Perelli says: Hello, my friends. It is good to see you again. Still keeping our borders free I see.
Antonio appreciates your hard work.
Stormwind Guard says: Hello again, Antonio. Thank you again for the hat for my wife. She adored it.

Stormwind Guard says: Be safe, Antonio.

Antonio Perelli says: You're very welcome! I must be on my way... be safe, all of you.

Antonio Perelli says: Oh, I will my friend. I will indeed. You, too, be safe.
Trivia
This is a reference to two characters from the Stephen Sondheim musical, Sweeney Todd: The Demon Barber of Fleet Street: a sailor named Antony, and a traveling barber by the name of 'Adolphus Perelli' - hence 'Antonio Perelli'. Antonio's emote is similar to a line that Adolpho's worker Toby calls out in the play to advertise his "Miracle Elixir."
Relatives
| | |
| --- | --- |
| | This section includes speculation on characters that might be related, usually because they may share a last name. It should not be taken as representing official lore. |
He is likely related to the traveling salesman found in Old Stratholme, Silvio Perelli.
See also
External links