Antoran Bile Larva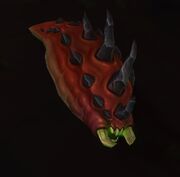 This creature can be captured by engaging it in a pet battle.
Antoran Bile Larvae are bilescourge larvae located in the Antoran Wastes.
Pet Journal
Proximity to Antorus makes these larva hyper agressive.
Battles
Trivia
During the early PTR, this NPC had the name Stygian Bile Larva.
Patch changes
External links
Battle pet types
Beast battle pets