Antoran Wastes

Level: 45
Battle Pet Level: 25
Capital(s)
Antorus
Races
 Man'ari eredar
 Demon
 Lightforged draenei

Major settlements
Terminus

Minor settlements
Hope's Landing
Light's Purchase
Veiled Den

Affiliation
Burning Legion
Location
Argus
The Antoran Wastes is a zone on the planet of Argus. It serves as one of three zones on Argus and hosts the raid Antorus, the Burning Throne, dominating the western half of the zone. It is located inside the rift that bisects Argus, embedded on a cliff near the top of the rift.
Geography
The Antoran Wastes are a barren area, fully consumed by the fel. To the north is a factory/laboratory area centered around the Spirit Crucible and assaulted by Illidan from the Veiled Den. To the south, the artillery at Felfire Armory defends the port of Terminus and is assaulted by Alleria at Light's Purchase. The western half of the area is dominated by Antorus, the Burning Throne.
Maps and subregions
Travel hubs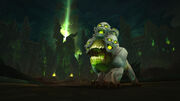 Adjacent regions
Notable characters
Quests
Main article: Antoran Wastes storyline
Resources
Wild creatures
Notes and trivia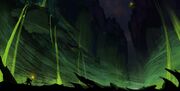 Patches and hotfixes
External links