Anubisath Idol
Use: Teaches you how to summon a living Anubisath Idol.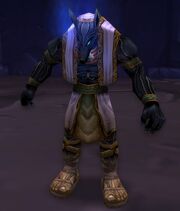 The Anubisath Idol drops from the Twin Emperors in Temple of Ahn'Qiraj.
Pet Journal
An anubisath idol from the Temple of Ahn'qiraj, infused with ancient qiraji magic.
Battles
Humanoid: Recovers 4% of their maximum health if they dealt damage this round.
Criteria of
Patch changes
External links
Battle pet types
Humanoid battle pets

Anubisath Idol

Dal

Lightless Tormentor

Lost Featherling

Rook

Ruffle

Spriggan Trickster

Steward Featherling

Winterleaf Spriggan