For other uses, see Apocalypse (disambiguation).
Apocalypse
Item Level

20

Sword
Speed 3.60
8 – 14 Damage
(3.1 damage per second)
+4 Strength
+6 Stamina
+4 Mastery
Equip: Grants the Apocalypse ability, which summons members of your Army of the Dead to fight for you.
Classes: Death knight
"It shall sow destruction and war. Famine and death. It shall tempt with power, and then bring an end to all life."
Apocalypse is the artifact used by unholy death knights in World of Warcraft: Legion.
Source
This item is a quest reward from


 [10-45] The Dark Riders.
Background
Vampiric demons known as nathrezim forged this ancient sword, which brings with it violence, plagues, and death. Apocalypse soon earned a horrific reputation in the hands of a Tirisgarde mage who couldn't control its destructive energies. In time the sword was seized by the malevolent Dark Riders: servants of Medivh, the corrupted Guardian of Tirisfal. They hid the blade in the catacombs under his home, the tower of Karazhan.[1]
Artifact traits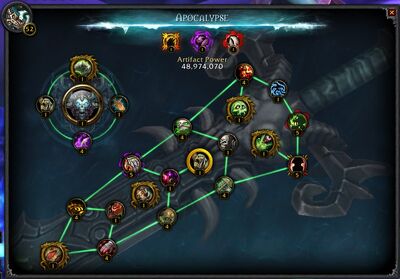 Base
Empowered
Appearances
Classic
Achievement:

 [Fighting with Style: Classic]
This is the default appearance
Recover one of the Pillars of Creation
Recover  

[

Light's Heart

]


 [10-45] 

Light's Charge

Complete the first major Campaign effort with your order
 [10-45] 

A Personal Request
Upgraded: Unholy War
Achievement:

 [Fighting with Style: Upgraded]
Valorous: Herald of Pestilence
Achievement:

 [Fighting with Style: Valorous]
War-torn: Faminebearer
Achievement:


 [Fighting with Style: War-torn]/


 [Fighting with Style: War-torn]
Challenging: Death's Deliverance
Achievement:

 [Fighting with Style: Challenging]
| | | | |
| --- | --- | --- | --- |
| | | | |
| Complete the Imp Mother Challenge questline | Defeat Heroic Kiljaeden after unlocking a Challenge artifact appearance | Win 10 rated battlegrounds after unlocking a Challenge artifact appearance | Defeat all Legion dungeon bosses after unlocking a challenge artifact appearance |
Hidden: Bone Reaper
Achievement:

 [Fighting with Style: Hidden]
Acquire  

[

The Bonereaper's Hook

]

Complete 30 Legion dungeons after unlocking a Hidden artifact appearance
Complete 200 World Quests after unlocking a Hidden artifact appearance
Kill 1,000 enemy players after unlocking a Hidden artifact appearance
Notes
Videos
Patch changes
References
External links