Apocalypse
For other uses, see Apocalypse (disambiguation).
Apocalypse is the artifact used by unholy death knights in World of Warcraft: Legion.
Source
This item is a quest reward from


 [10] The Dark Riders.
Background
Vampiric demons known as nathrezim forged this ancient sword, which brings with it violence, plagues, and death. Apocalypse soon earned a horrific reputation in the hands of a Tirisgarde mage who couldn't control its destructive energies. In time the sword was seized by the malevolent Dark Riders: servants of Medivh, the corrupted Guardian of Tirisfal. They hid the blade in the catacombs under his home, the tower of Karazhan.[1]
Artifact traits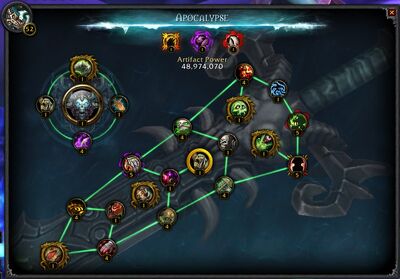 Base
Empowered
Appearances
Classic
Achievement:

[Fighting with Style: Classic]
This is the default appearance
Recover one of the Pillars of Creation
Recover  

[

Light's Heart

]


 [100 - 110] 

Light's Charge

Complete the first major Campaign effort with your order
 [103 - 110] 

A Personal Request
Upgraded: Unholy War
Achievement:

[Fighting with Style: Upgraded]
Valorous: Herald of Pestilence
Achievement:

[Fighting with Style: Valorous]
War-torn: Faminebearer
Achievement:


[Fighting with Style: War-torn]/


[Fighting with Style: War-torn]
Challenging: Death's Deliverance
Achievement:

[Fighting with Style: Challenging]
| | | | |
| --- | --- | --- | --- |
| | | | |
| Complete the Imp Mother Challenge questline | Defeat Heroic Kiljaeden after unlocking a Challenge artifact appearance | Win 10 rated battlegrounds after unlocking a Challenge artifact appearance | Defeat all Legion dungeon bosses after unlocking a challenge artifact appearance |
Hidden: Bone Reaper
Achievement:

[Fighting with Style: Hidden]
Acquire  

[

The Bonereaper's Hook

]

Complete 30 Legion dungeons after unlocking a Hidden artifact appearance
Complete 200 World Quests after unlocking a Hidden artifact appearance
Kill 1,000 enemy players after unlocking a Hidden artifact appearance
Notes
Videos
Patch changes
References
External links