Apothecary Helbrim is a Forsaken quest giver located at the Crossroads in the Horde-aligned territory of Northern Barrens.
During the Legion Invasions, he offered some

 [Helbrim's Special] potions at his vendor stand to the defenders.
Quests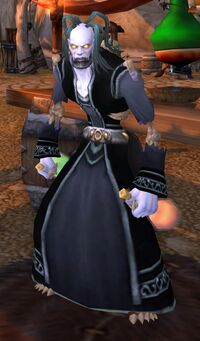 [5-30] 

Fungal Spores

 [5-30] 

In Fungus We Trust

 [5-30] 

Who's Shroomin' Who?
Quotes
Gossip
The Barrens holds a variety of substances for which we, the apothecaries of Lordaeron may find use.
In Hearthstone
Apothecary Helbrim appears as a legendary Rogue card in the Forged in the Barrens expansion for Hearthstone. Its flavor text reads: "The best way to maintain your health is to poison everyone else."
Trivia
See also
External links