Appearance Change
The subject of this article was removed from World of Warcraft in patch 9.0.1.

This includes items and quests that can no longer be obtained or are now deprecated.
The in-game information in this article is kept purely for historical purposes.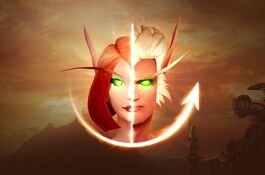 An Appearance Change is a paid service that lets the player change an existing character's appearance. It includes an optional name change, essentially incorporating the Name Change service.
The Appearance Change service is also incorporated into the Race Change service.
The service was removed in patch 9.0.1 as all of its options — including the ability to change a character's gender — had been integrated into the in-game barbershop.[1]
Options
The service allows the player to adjust all appearance-related options for the character, including gender, face, skin color and racial options such as tusks, horns, and tentacles (where appropriate).
The player may also choose to rename their character.
Eligibility and restrictions
The following terms are from the Appearance Change Information, transcribed July 21, 2018.
You cannot choose a character name that is already in use by another player on the realm.
Once the name change is complete, the character's old name will be locked from use on the realm for 30 days. After that time, the old name can be claimed by any player on a first-come, first-served basis. If you want to use the name again, you will have to reclaim it before anyone else does after the 30 days have passed and the name is made available again.
After completing an Appearance Change, the character cannot have their appearance or name changed again for three days. After three days have passed, you must purchase another Appearance Change or Name Change to choose a new appearance or name.
Existing in-game mail and auctions will not be interrupted or canceled.
After you change a character's name, other players will need to send new mail to the new character name.
The character will remain in the same guild and will stay on the friends lists of anyone who had added it. If you changed the character's name, the new name will appear on friends lists in place of the old one. We recommend you tell your friends and guildmates about the change as soon as possible.
Characters whose names have been changed will remain on your ignore list, and their names will be updated automatically.
Once you have completed the Appearance Change process, the Armory profile will be updated to reflect the character's new look and name.
See also
References
External links