Arcane Brilliance
The subject of this article was removed from World of Warcraft in patch 7.0.3.

This includes items and quests that can no longer be obtained or are now deprecated.
The in-game information in this article is kept purely for historical purposes.
Arcane Brilliance

Arcane Brilliance

Level 58 mage ability
30 yd range
1% of base mana
Infuses the target with brilliance, increasing their spell power by 10% and their critical strike chance by 5% for 1 hour.

If target is in your party or raid, all party and raid members will be affected.

Usable by
Class
Mage
Properties
School
Arcane
Cooldown
None/Global Cooldown
Other information
Level learned
58
Glyphs
 

[

Glyph of Arcane Language

]

Related buff

Arcane Brilliance
Increases spell power by 10%.
Increases critical strike chance by 5%.
Duration: 1 hour
Arcane Brilliance is a mage buff spell available at level 58.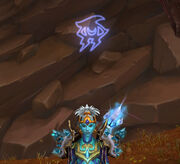 Tips and tactics
It does not stack with

[

Dalaran Brilliance

]

,

[

Dark Intent

]

, or

[

Legacy of the White Tiger

]

; and the pet abilities

[

Bellowing Roar

]

,

[

Fearless Roar

]

,

[

Furious Howl

]

,

[

Terrifying Roar

]

, or

[

Still Water

]

.
Because of its long duration, it is standard practice for mages to keep this spell up onto themselves and all party members while in a group.
If you have mana to spare while soloing, any nearby friendly player will appreciate and benefit from this ability. Casting it on a priest will encourage the priest to cast

[

Power Word: Fortitude

]

on you in return. Likewise, druids will often return the favor with

[

Mark of the Wild

]

, and paladins with

[

Blessing of Might

]

or

[

Blessing of Kings

]

.
Patch changes
Previously was the group buff version of

[

Arcane Intellect

]

, increasing party members' Intellect for 60 minutes.

Patch 3.3.0 (2009-12-08): The buff will be stored in a Consolidation Box when received. It will come out when 3 min is left.

Patch 3.0.2 (2008-10-14): Arcane Brilliance Rank 2 is now available from mage trainers.

Rank 3 is also trainable, though you need World of Warcraft: Wrath of the Lich King to reach the required level.

See also
References
External links