Arcane Shot
Arcane Shot

Arcane Shot

Level 2 hunter ability
40 yd range
40 focus
Requires Ranged Weapon

Usable by
Class
Hunter
Properties
School
Arcane
Cooldown
None/Global Cooldown
Other information
Level learned
2
Improvements

[

Master Marksman

]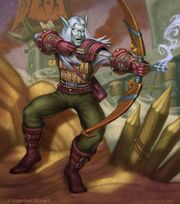 A hunter's deadly accuracy doesn't just seem like magic; sometimes, it is.[1]
Arcane Shot is a level 2 hunter ability.
Notes
Arcane Shot deals Arcane damage which bypasses armor, but can be partially resisted.
Though it deals magic damage, Arcane Shot is not considered a spell and gains no benefit from spell power.
Tips and tactics
Arcane Shot can be very powerful in PvP. This is an oft-overlooked fact because Arcane Shot deals Arcane damage, which bypasses the heavy armor of warriors, paladins and death knights.
Trivia
Arcane Shot is a basic hunter spell in Hearthstone. The flavor text reads: "Magi conjured arcane arrows to sell to hunters, until hunters learned just enough magic to do it themselves. The resulting loss of jobs sent Stormwind into a minor recession."
Patches and hotfixes
Additionally, now deals 110% ranged weapon damage (down from 125%).

See also
References
External links