For information on the real-world game, see Warcraft Arclight Rumble.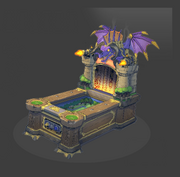 Arclight Rumble is a tavern game played across Azeroth.
The game is powered by gnomish technology and arclight.[1] The former involves a printing furnace located at the bottom of the game machine,[2] creating the figurines, while the arclight is used to animate them.[3]
The machine depicts (in)famous battlegrounds from Azeroth, where animated figures do battle for the users' entertainment. The machine requires a coin to operate.[1]
Trivia
Arclight Rumble has been compared to pinball, in regards to its tavern presence and usage. Its cultural equivalent in Azeroth has been likened to videogame arcades. According to Jeremy Collins, "we got into the idea of the printing furnace at the bottom of our game machine making minis and we just took off with a bunch of references to arcades, and pinball. We really like the idea that this is the game played in taverns underneath the Heartstone Areas you can go down, take that old musty cloth from the arcade rumble game, and just like put your coin and start playing."[2]
References