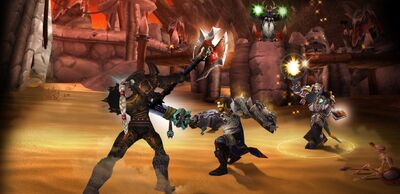 Arenas are instanced areas in which teams of players can compete against each other in deathmatch-style PvP. Unlike battlegrounds, the arenas are not based on objectives, but simply your team's ability to obliterate the other team. Two teams of the same faction are allowed to battle each other in the arena.
Arena matches are available in rated mode or skirmish (unrated) mode and can either be 2 versus 2 or 3 versus 3. In rated mode, winning and losing matches will adjust the personal rating and matchmaking rating (MMR) of players accordingly. Match selections are determined based on the average MMR of the team. This works similarly to rated battlegrounds.
Players can queue for arenas through the PvP interface. Skirmish mode allows players to queue by themselves or with their friends and the game will fill the remaining spots. For rated mode, players in a party of the appropriate size (cross-realm groups are supported) may queue for an arena bracket of the same size.
Arenas
PvP Instanced Arenas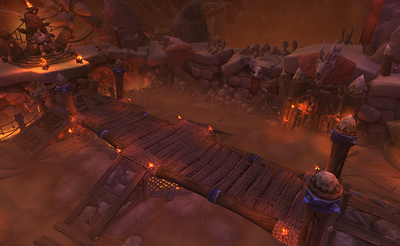 Removed
The Ring of Valor was added in Wrath of the Lich King along with Dalaran Arena. The arena featured unique mechanics with pillars moving up and down. However, the arena was plagued with bugs and Blizzard ultimately decided to remove it with intentions of bringing it back as soon as the bugs were resolved.[1] The arena is the location of the horde's Brawler's Guild.
PvE Instanced Brawl Arenas
PvA Non-Instanced Arenas
Ratings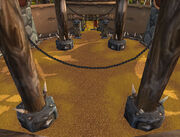 Several forms of rating exist for rated arenas. Arenas initiated as War Games do not affect any of your ratings, and are played against the selected opponents regardless of ratings.
Matchmaking rating
Matchmaking Rating (MMR) is a secondary rating that is used to match groups of players against others at about the same skill level. Each player's MMR increases or decreases with each victory or loss, adjusted by the MMR of the opposing team, and can only be seen at the end of each fight. Match selections are determined based on the average MMR of the individual members of the team, i.e. if you have 1600 MMR, you will almost always fight against other teams with around 1600 MMR.
Notes
MMR resets each time the player gains a level.[2]
Personal rating
Each character also has its own personal rating(s). A separate personal rating exists for each type of arena (2v2 and 3v3) as well as for rated battlegrounds. Personal ratings are only affected by your own accomplishments, and are adjusted according to your wins and losses against other teams.
If you have a personal rating of 2000 or more you will start being able to receive the elite equipment of the current season.
Gameplay
Restrictions
Arena combat comes with a number of restrictions, intended to improve balance and fairness in matches. Some items and abilities are therefore not usable in arena. Many of these restrictions also apply to rated battlegrounds. Restricted spells and items include:
Cross-team communication is prevented in arena and rated battlegrounds, regardless of faction.
Pre-match
Upon zoning into the arena, players start in a staging area. Health, mana, and energy are all restored, all buffs and conjured items are removed and pets are dismissed (debuffs will remain, and pets can be re-summoned once you zone in). Players are also given the

[Arena Preparation] buff, which removes the resource cost of all abilities.
The opposing team's target frames are displayed in the user interface, allowing players to inspect the class and specialization of their opponents. Players can also reset their talents during the preparation stage at no cost, allowing them to customise their abilities in consideration of the opposition. Any changes made to a player's talents during this stage are reverted once the player leaves the arena.
After 60 seconds of preparation, the match commences. All buffs with fewer than 30 seconds remaining are removed and rage/runic power is reset to 0.
The fight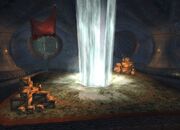 Players battle it out until all the members of one team are defeated or choose to leave, or until 25 minutes have elapsed. If neither team has won after 25 minutes, the match will end in a draw.
Once a player dies, they can choose to enter spectator mode and observe the remainder of the match as a ghost.
Dampening

[Dampening] is a stacking debuff that occurs in Arena matches that run too long, designed to prevent matches from ending in a draw. It reduces healing received and absorption effects by 1% per stack.
Dampening is applied after 5 minutes.

In 2v2 matches where each side has at least one healer, Dampening starts instantly.

Once this time has elapsed, each player will gain a stack of Dampening every 10 seconds.

[

Necrotic Strike

]

's healing absorption is not affected by Dampening.
Shadow Sight orbs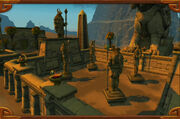 Located around each arena are a number of Shadow Sight orbs. Walking into one of these objects will grant the player the 15-second Shadow Sight buff, significantly increasing their stealth and invisibility detection, but also increasing their damage taken by 5% and preventing them from entering stealth. These orbs are provided in order to facilitate combat with opponents who may prefer to remain stealthed. The orbs are consumed on use, but regularly regenerate.
Post-match
Once all the players on one team have either died or left, a statistics window is shown similar to the ones in battlegrounds. The window also shows any rating adjustments as a result of the match.
The statistics window also displays your MMR. Note that this is the only point at which it is possible to view your MMR, as this information is not accessible through any other means.
Arena teams
In the past, players wishing to compete in arena combat were required to create or join an arena team. With Patch 5.4.0 formal arena teams were removed, along with team rating, and any player in a party of the appropriate size may queue for arena matches through the PvP interface. The term 'team' is still used to refer to a participating group of players.
Rewards

This section contains information that is out-of-date.
Main article: PvP rewards
At the end of each arena season, players that rank among the highest ratings within the 3v3 and 5v5 brackets are awarded titles marking their accomplishments. Players who have been in at least 20% of a top arena team's matches will receive a title according to their standing. Gladiator titles also award players with Master Riding and a Custom Gladiator mount. With Patch 5.4.0, arena ladders and rewards are no longer battlegroup-specific, but instead are sorted by region. See PvP title rewards for more information.
Skirmishes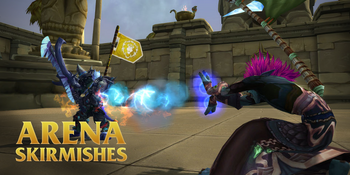 Skirmishes, also known as Arena Skirmishes, are a casual version of arena combat, featuring 2v2 and 3v3 matches.[3] Skirmishes are available to characters from level 15,[4][5][6] with brackets every 10 levels.[7]
Skirmishes do not affect ratings, and are intended to be a good way to try out new team members, specs or comps, as well as providing a chance to engage in arena play on a more casual basis.[8] Skirmishes are also intended to allow players who are less experienced in PvP or who lack the teammates for regular arena to discover and experiment with arena play for the first time.[8]
Players can queue for skirmishes in groups or solo, for either 2v2 or 3v3 matches. If the player's group does not fill the chosen bracket size, they will be matched with other queuing players to complete the team, similar to when queuing for a battleground.[8] Each player's specialization/class role will also be taken into account, and the system will attempt to create effective pairings, such as pairing a DPS with a healer.[8] Characters with experience gains turned off will be queued in their own pool, similar to with battlegrounds.[9] Skirmishes use a hidden matchmaking rating to determine pairings, but are more focused on speed than other forms of PvP, and will find matches more quickly than regular arena matches.[10]
Rewards
While primarily casual matches, skirmishes are not without their rewards. Winning a skirmish will grant the winning players honor, and at max level will also grant a Strongbox which may contain gold, more honor, a piece of Honor PvP gear, or rarely even a piece of Conquest PvP gear.[8][11] Below max level, skirmishes will grant XP in place of Strongboxes.[12]
At max level, Strongboxes are intended to be the main reward from completing skirmishes.[13]
Brackets and level scaling
Skirmishes take place in mostly 10-level brackets, starting at level 15. Max level characters will only be matched against other max level characters.
Below max level, players will have their effective level raised to the maximum level allowed in that bracket.[14] Players' base stats and spells are scaled accordingly, and are treated as the same level when determining hits, misses, and critical effect chance. Note that although players' stats and abilities are scaled, lower-level players will still lack new abilities and talents not gained until higher levels, and may still therefore find themselves at some degree of disadvantage. Heirloom items are normalized to the maximum level of the bracket. Normal gear does not scale.
Bonus Event
During the Arena Skirmish Bonus Event, players earn 50% more honor when competing in arena skirmishes.
History
Skirmishes were first introduced along with the arena system itself at the start of The Burning Crusade. However, by the time of Cataclysm the feature was seeing very little use by players[3] and the feature was removed, replaced by War Games.
With plans for the Warlords of Draenor expansion, the developers felt a growing demand for a form of "low-pressure" arena play, leading them to consider reintroducing the feature.[3] Another motivation was the observed higher player participation in gameplay such as battlegrounds where solo-queuing is possible.[8] The reintroduction of skirmishes may also have partly come about due to the cancellation of the planned Trial of the Gladiator PvP feature.[8]
Skirmishes were reintroduced in the Warlords of Draenor systems patch, Patch 6.0.2.
Arena Tournament
Main article: Arena Tournament
Every year an Arena Tournament is held on a special event realm where players of all battlegroups compete against each other for cash and prizes.
Achievements
List of content achievements
Notes and trivia
As of June 2014, less than 0.5% of Arena games lasted the full 20 minutes.[15]
Patch changes
References
External links

EU WoW Forums
 [PvP-Guide] Gaining Arena Rating (MMR)
Arenas

PvP (instanced)
PvE (instanced)
PvA (non-instanced)