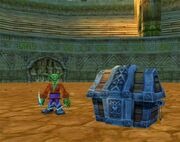 The Arena Treasure Chest appears every 3 hours (starting at midnight, server time) in the middle of Gurubashi Arena in Cape of Stranglethorn as part of the Gurubashi Arena Booty Run event.
Contents
This chest contains some money,
 [Arena Master], a few greens, and other miscellaneous items.
It may also have a chance to contain the following:
Once a player has completed
 [Gurubashi Arena Grand Master], they can loot the
 [Defending Champion] from the chest.
The chest also has a chance to drop

 [Gladiator's Healing Potion].
Patch changes
External links