Argent Crusader's Tabard
Use: Teleports the caster to the Argent Tournament Grounds.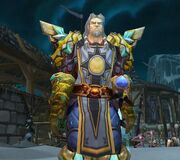 This tabard can be purchased from Dame Evniki Kapsalis at the Argent Tournament Grounds in Icecrown, Northrend for 50

. This can only be acquired by players who have attained the rank of <Crusader>, requiring Exalted reputation with all your faction's core races and the Argent Crusade.
This item must be equipped to be used, and players who activates its effect will be teleported to the Argent Pavilion in the Argent Tournament Grounds.
Its cooldown is separate from that of the

 [Hearthstone] and most other teleport items.
Notes
Patch changes
External links