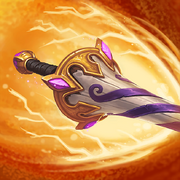 Argent Lance is a lance with the symbol of the Argent Crusade used in jousting matches near the Argent Coliseum.
Source
This item is provided from the following quests:
This item is also contained in Lance Racks.
Trivia
The Argent Lance appears as a rare weapon for the Paladin class in Hearthstone. The flavor text reads: "The stripes make it look like a candy cane, but we recommend against licking it."
Patch changes
See also
External links